Parents, evangelicals, businesspeople, lawmakers and others agree:  Doubling Maryland's renewable energy standard would help the state's economy, its environment and its future.
A broad array of supporters of a proposal to increase Maryland's renewable portfolio standard to 40 percent by 2025 gathered in front of Maryland's statehouse on the opening day of the 2015 legislative session to make their voices heard.
They want more renewable energy.
Environmental Entrepreneurs (E2) executive director Bob Keefe was one of a half-dozen speakers at the rally. He summarized in one word why Maryland's legislature must move quickly to double its renewable portfolio standard.
Jobs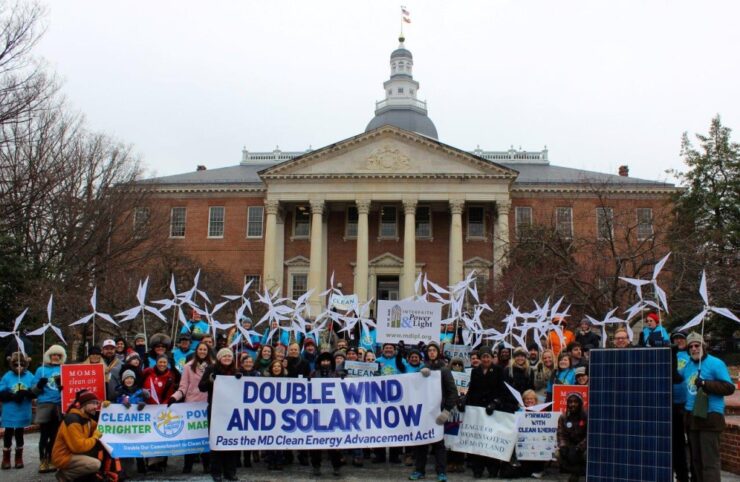 While each of the speakers told the crowd various reasons why more clean energy is good for Maryland – a mother said cleaner air would help her young sons breathe easier, and a pastor cited our moral responsibility to protect the planet – jobs and the economy underscored much of the remarks.
"Clean energy jobs are being created in the states that have the best renewable portfolio standards, the best energy efficiency standards," Keefe said. "We have the workforce here, we have the innovation here, we have the wherewithal to do this."
State Sen. Brian Feldman, a Democrat from Montgomery County, plans to introduce the Maryland Clean Energy Advancement Act of 2015 now that the legislative session is underway. Feldman's bill would set a standard to double the amount of energy the state's utilities get from clean renewable sources like solar and wind. This would give Maryland one of the strongest renewable standards in the nation, and keep the state on pace with clean tech leaders like California, which plans to increase its own renewables standard to 50 percent – tops in the U.S.
Maryland's current renewable portfolio standard stipulates the state source 20 percent of its electricity from renewables by 2020. That standard was put on the books a decade ago by former Gov. Bob Ehrlich, a Republican. Maryland's utilities are on track to surpass Ehrlich's standard, providing Maryland with more than 10 percent clean, renewable energy in 2014 alone.
The potential for economic and jobs growth is clear. According to a just-released report from the Solar Foundation, the solar industry added jobs nearly 20 times faster than the overall economy in 2015. More than 173,800 Americans now work in the solar industry – an 87 percent increase over the last five years, according to the Solar Foundation.
Keefe said smart energy policies create jobs for machinists who build wind turbine gear boxes and other parts; contractors who install solar panels; and engineers and technicians who design new renewable energy systems.
According to the Chesapeake Climate Action Network (CCAN), doubling Maryland's RPS would support 2,000 new jobs annually in the state's growing solar industry and create 20,000 new jobs in the region's wind power supply chain.
Stu Dalheim is the vice president of Calvert Investments, a Bethesda-based investment management company with more than $13 billion under management. Earlier in the week, Dalheim said in a press release that clean energy is a big part of the business model of blue-chip American companies – and now's the time for Maryland to join their ranks.
"Thanks to forward-looking clean energy policies like this, renewable energy is moving into the mainstream for business," Dalheim said. "A majority of the country's largest companies have clean energy targets and investors are ready for public policies that push further in creating sustainable, home-grown energy jobs that are good for the climate. It just makes sense."
Keefe highlighted a project on the Eastern Shore involving an E2 member with Maryland roots. In Cambridge, a farmer set aside about 20 acres of his least-productive farmland for a commercial-scale solar array, which will take dozens of workers months to build.
In October, the National Aquarium in Baltimore signed a 25-year agreement with Constellation Energy to purchase power from the array, helping the aquarium stabilize the high, unpredictable electric bills associated with electricity generated from fossil fuels. OneEnergy Renewables CEO Bryce Smith, an E2 member in Seattle, put the project together.
In a Baltimore Business Journal story published at the time of the project's announcement in October, National Aquarium CEO John Racanelli explained part of the aquarium's motivation.
"We hope this will help set a precedent for supporting large-scale, off-site projects and inspire others to take action," he said.
Keefe said if legislators want to see clean energy in action, they should look no further than the U.S. Naval Academy, just a short walk from Maryland's state capital. The Navy, Keefe said, is helping the Department of Defense to lead the country in renewable energy, energy efficiency and advanced biofuels.
"So I say pass the 40-percent RPS and we'll create jobs, we'll help our economy, we'll help our environment," Keefe said. "We'll help the future for Maryland businesses."