Founded in 2009 by Becky and Scott Harris, the Catoctin Distillery is a small, rural business based in Virginia's Loudoun County that's found success by pushing traditional boundaries and embracing clean, renewable energy.
Catoctin produces small-batch, handcrafted whisky, gin, and brandy. The first legal distillery in the county since before prohibition, Catoctin prioritizes high-quality, organic, and kosher spirits.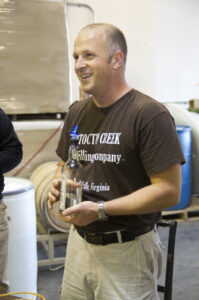 Since he was a child, Scott dreamed of having solar power in his life. So when he and Becky began renovating the distillery in 2013, they applied for and received a USDA Rural Energy Assistance Program (REAP) grant to partially finance a 41kWh solar array from Prospect Solar, a solar energy installer based in Sterling, Virginia.
The solar array offsets about 85 percent of the distillery's electrical usage. On sunny days, energy generated by the array is equivalent to five households' worth of electricity – and the distillery even returns energy into the grid for others to use.
Nothing at the distillery goes to waste. In fact, the distillery gives its spent rye mash to local farmers to use as nutrient-rich livestock feed.
The Harris's explained that one local farmer sells his meat to a restaurant across the street from the distillery. Becky joked that if visitors are interested, they can go to the distillery and the restaurant for a "cradle-to-grave tour."